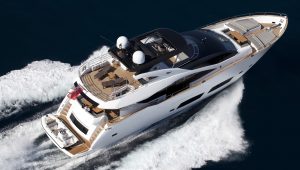 Sunseeker International Case Study
Introduction to document:
Sunseeker optimizes yacht design, parts procurement and build with NX and Teamcenter Modern manufacture, classic beauty With sleek lines, spacious decks and sport performance, Sunseeker yachts exude presence and power. In harbors all over the world, the external styling can be identified instantly, and the curvaceous interiors provide all
the comforts of home.
The essential Sunseeker look is achieved by keeping the overall height of the boat low without compromising headroom. This involves optimizing the function of machinery below-deck so that it takes up minimal space. "What Sunseeker does very well is to make interiors larger and quieter, with less vibration," explains Ewen Foster, director
of design and naval architecture, Sunseeker International. "If you consider every nuance that encourages someone to buy a boat – we have more of it."
The Sunseeker brand encompasses boats ranging from 40 feet to a stunning 155 feet in length. Through attention to detail, use of advanced composites and the application of technology, the company continues to make refinements and expand its product line. The design team is typically developing four new or refreshed models each year, and has been using NX™ software and Teamcenter® software from product life- cycle management (PLM) specialist Siemens PLM Software for more than a decade.
Download full PDF brochure >>>