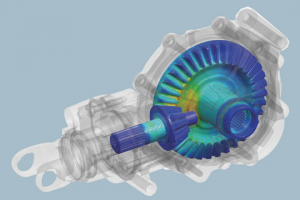 NX Design Simulation Fact Sheet
Introduction to document:
Analyzing structural and thermal performance during design.
NX™ Design Simulation software delivers design-integrated structural and thermal simulation tools that help design engineers compare design alternatives and optimize performance characteristics of products from the earliest stages of the design process.
Complementary and scalable to the NX Advanced Simulation applications suite, these tools are tightly linked with NX 3D design geometry to accelerate simulation modeling, analysis and results evaluation, so that functional performance simulation results can directly influence design. The result is a highly iterative and predictive engineering process that delivers innovative designs, higher quality products and reduced time-to-market.
NX Design Simulation enables design engineers to understand, evaluate and optimize the structural, thermal and
vibration behavior of parts and assemblies. NX Design Simulation includes the integrated NX Nastran® finite element solver, the same solver used by highend analysts, for quick turnaround linear structural and thermal evaluations as well as sizing and parametric shape optimization.
Download full PDF brochure >>>